So lately I have not been updating much at all. There are a number of reasons for this including being busy outside the hobby, doing other things in my free time (generally reading), and what not, but the most decisive reason is one that I'm not particularly happy to come to terms with; my gaming group is dead. Ground to dust. Gone. And by dead, I don't mean the members are have no heart beat and are brain dead (thankfully), I mean it is impossible to motivate anyone into playing anything or getting together at all. Many have moved away from the hobby for less time intensive games such as Magic, or have become very busy with work, and others have always just kind of been flakey people. No big deal.
This said, after coming to this realization, I have decided to take my gaming in a new direction. First and foremost I have decided to switch over from playing skirmish games to playing Inquisitor in the 28mm scale, I have talked to three of my roleplaying buddies from past roleplaying game campaigns and they were oddly enough very interested (though two of them are really big fans of 40k fluff, just not so much the game for time and money reasons). This makes me very exciting because these three guys are very reliable, and a lot of fun to hang out with. They also understand narrative, and one even paints! That said we are in preparation for a mid to late January start date for an Inquisitor Campaign in which I will be GMing and are running a facebook group with background on the subsector it will take place in, organizations involved, npcs, and what not. It will also involve different messages to each player from their "superiors" on their objectives, so that each player will be unaware of each others objectives unless they are made aware for a narrative reason or they care to share them with potential allies or enemies.
The other decision I have decided is to pick up the LoTR strategy battle game again (and I'm sure I'll be posting pics of minis eventually), as I wanted a game that is fairly simple and easy to teach, but with lots of options and tactical depth. To be honest of the three core games GW produces, I believe this to be the best rule set. I recently pulled out some of my old miniatures, ordered a few new ones, and picked up the new faction Source books and Hobbit rules (with the new starter which has awesome models in it). Another nice note on this is my girlfriend is a big LoTR fan, and she is really excited to paint the models with me (a fun thing to do together!), and after playing through The Hobbit starter scenarios, she loves the game and is quite good at it. I think this will be a lot of fun, and it will be nice to have a miniatures game we can always play together. Another nice note is I have one buddy who is very interested in playing, and may even start buying miniatures (if not, I have more than one army anyways, as they are considerably cheaper and smaller than WFB or 40k armies, especially with ebay), and another who will almost definitely get into it when he finishes his military training.
Okay, so end rant.
However, I will leave you with pictures of my finished Interrogator Fel (well he needs basing), his Inquisitor (who has switched from being Xenos ordos to Malleus) and the rest of the retinue are WIP right now. The pics are a bit out of focus, but I think you get the point. This model was an absolute pain to paint due to his pose and what not, but turned out pretty well I think. I'm a bit sick now and am going to get some rest, but hopefully I'll get some more work done on the retinue in the next few days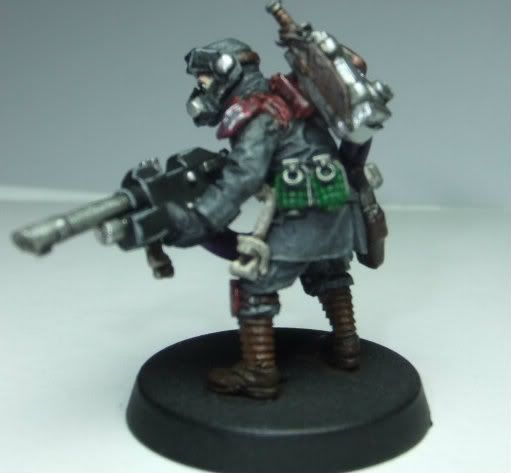 As always comments and constructive criticism are welcome! Thanks for looking!