So it has been a while since I posted an update. I was subjected to a rather rigorous (though in terms of time alone, not difficulty) medical training (thankfully it was only a month long) that was 26+ hours a week. On top of my normal 30-40 hours of work. On the plus side, that is one more prerequisite for a multitude of medical programs down.
That said what little time I had was used to start a Necromunda campaign with a couple of my buddies. We are a few campaign turns in, and about 6-7 games in each. I'm playing Orlocks. I've always liked their fluff and models, and they seem very well rounded, so I decided they'd be a good call. One of the other guys is playing Van Saar and the other is playing Scaavies (he actually just had his leader power challenged and ousted). Hopefully we can get a few more players soon.
Here are my finished gangers (still have 6-8 more to paint).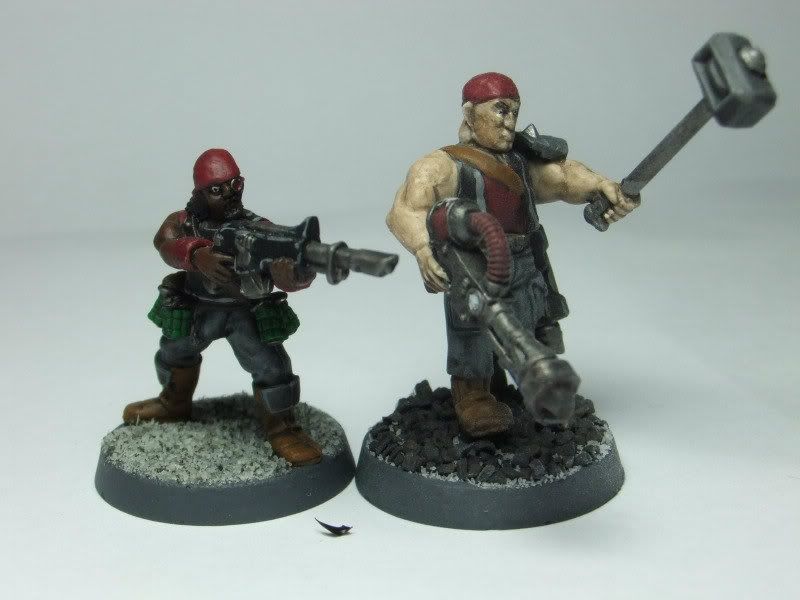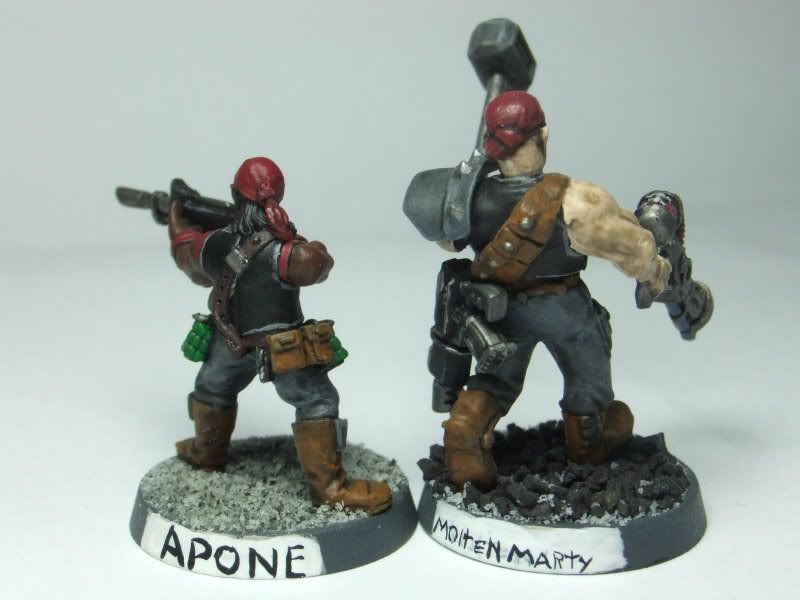 These chaps are Apone (a ganger and coincidentally enough the first figure I have painted with an African skintone, I think he turned out well!) and Molten Marty (a heavy with flamer). Apone's performance so far has been pretty mediocre. He has a lasgun and has gained a WS and BS advance. Molten Marty has been doing pretty well for himself (better than my other heavy for sure), he has gotten an extra wound as his sole advance so far. You can also see how disproportionate Catachan jungle fighters are next to a more proportionate Necromunda figure.
These gents are Mean Gren and Sturmfelder(both gangers). Mean Gren has been kicking ass. He is equipped with a shotgun with manstopper rounds, carapace armor (which I modeled to look like individual pieces of carapace hodgepodged together) , and a respirator. As far as my gangers go, he is easily my best performer. He has a BS and a T advance, as well as the skill Iron Will and True Grit. Sturmfelder has a lasgun and has only had one advance, which was fast shot (we are using the Necromunda Community Edition rules by Anthony Case).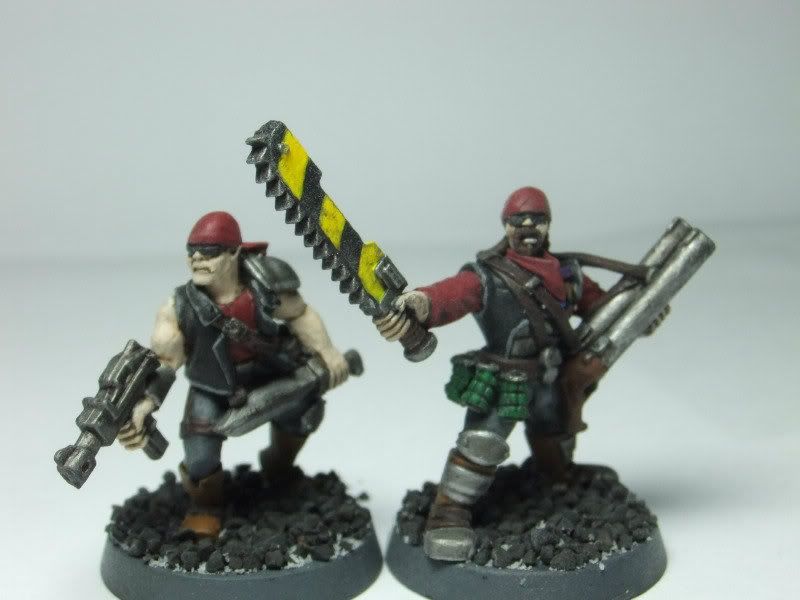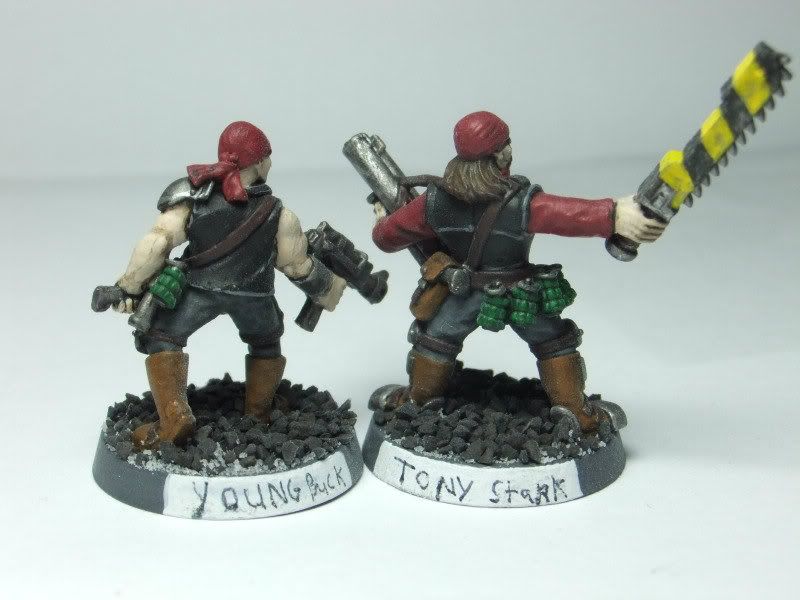 Next up is Young Buck (a juve, I name all my juves after rappers - even though I don't enjoy the genre as a whole, there are just too many silly "Young" or "'Lil" names to pass up) and Tony Stark (My gang leader, and being from the House of Iron, he needed a suitable name). Young buck is on the verge of becoming a ganger (when he will get a new model and this one will be reused as a new juve eventually) in game he has an autopistol and chainsword, a WS advance, and the Combat Master and Counter-attack skills. Tony Stark doesn't actually have a shotgun or chainsword any more unfortunately, but I had already started on the model. He now has an autopistol and a sword, as well as a stinger pouch and mesh armor. He has a S advance, and also has gained the step aside skill. He has a horrible scars injury, which makes him cause fear. As you can imagine, he is now a close combat fighter.
I'll post the rest of the gang as I finished them, I recently had a melee juve become a ganger, and have to make him a model, which I may paint up next. Thanks for looking and any feedback is much appreciated!